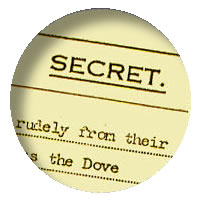 Elke Wing hield een "Operations Record Book" bij van dagelijkse gebeurtenissen en missies. Dat de informatie in zo'n 'ORB' interessant is, hoef ik u niet te vertellen, temeer ook omdat  geheime informatie betrof. Onderstaand vindt u het (onvertaalde) Operations Record Book van de 125ste Wing Royal Air Force en het 443ste Squadron, tijdens hun verblijf op Airstrip B.82 Grave in oktober 1944.
Als er in de tekst wordt gesproken over gisteren (yesterday) dan bedoelen ze de datum die voor het bericht staat aangegeven. Men start immers steeds om 23.59 uur en tegen de tijd dat het bericht volledig is uitgetypt, is het al weer na middernacht, vandaar dat er af en toe over gisteren (yesterday) wordt gesproken.
OPERATIONS RECORD BOOK 125th WING R.A.F.
2/10/44
23.59
Our memories of our last few days in Belgium are somewhat confused. Everything happened at once. We suffered unpleasant shelling, our Spitfires were exchanged with 126's Spitfires, our Squadrons were returned to A.D.G.B. and replaced by two Tempest Squadrons and two Spitfire XIV Squadrons and on top of it all we were ordered to GRAVE. Operations, meanwhile, continued. Indeed 441 Squadron, on patrol just a couple of hours before taking off for England, had the pleasure of damaging one of the Boche's new Me 262 Jet-propelled aircraft. "A" party travelled apprehensively but uneventfully up to the new strip and there sat down to await the arrival of the Squadrons and the "B" party – or the Hun. They were never sure who would come first. Meanwhile Dakota's did a Ferry Service between Deurne and Grave to remove the last of the bodies who were Blighty-bound."B" party at half strength struggled manfully to cope with a difficult situation. The Messing Staffs with fewer hands than ever turned out more meals for more people and satisfied everyone. Ground crews who had lived with Spits ever since the Wing was formed had to learn about Tempests the hard way – by experience. And by some odd coincidence during those two or three days we had more visiting aircraft to cope with than ever before. Dakota's, Tempests, Typhoons and Mustangs, all added to the motley array we already had. Eventually, however, everything was accomplished. We said farewell at DEURNE to 132, 602, 453 and 441. We reassembled at GRAVE with 80 and 274 Tempest V Squadrons and 130 and 402 Spitfire XIV Squadrons. By ten o'clock on the 2nd October the Wing was operational. Patrols were taken on and were uneventfully carried through. The only out-of-the-ordinary being the sighting occasionally of Me 262's.

BOMBING CASUALITIES.

At 14.50 hours on the 2nd October A.P. bombs were dropped on the Wing by a lone Me 262 from about 10.000 ft. The bombs were contained in a canister, the noise of which bursting open was clearly audible a couple of seconds before the A.P. bombs began bursting. In the attack the Wing Adjutant F/Lt. O. Lee and a Cook A.C. Coss were killed. Two others were seriously wounded and eleven others wounded. No damage was caused to installations or aircraft. This type of raid may be expected to recur but can only be regarded as nuisance raids, against which the normal precautions of tin hats and slit trenches should provide sufficient protection.

.

3/10/44
23.59
Last evening our C.O. G/Captain Scott-Malden D.S.O., D.F.C. & Bar arranged with the Planning Staff that the Wing would be engaged today on Patrols over ARNHEM-NIJMEGEN-GRAVE with the intention of intercepting enemy jet-propelled Fighter bombers.130 Squadron Spitfires were airborne at 06.40 hours and patrolled at 20.000 ft for 50 minutes before being relieved by 402 Squadron.It was decided that the Tempests of 80 and 274 Squadrons should patrol at 15.000 ft but the thick cloud prevented either Squadron from operating effectively at that height. At 09.55 hours S/Ldr J. Heap of 274 Sqdn reported the weather as being unsuitable for further patrols and they were discontinued until 17.05 hours when the weather had improved enough to allow 130 Sqdn to take to the air again. Their patrol, like the previous ones was uneventful. 402 Sqdn relieved the other Spitfires and had nothing to report, but while they were landing at 18.56 hours a little excitement was provided by a JU 88 which crashed in the vicinity of base after jettisoning its bomb load.During the morning G/Captain Scott-Malden held a Conference of Wing Officers at which he stressed that all possible Passive Defence precautions must be taken in view of the probability of further air attacks and the possibility of shelling. Officers are to take special interest in their men's welfare under the difficult situation prevailing.

..

4/10/44
23.59
Throughout the day Patrols were continued with the object of intercepting the Me 262's and nine of these were uneventful. On the first Patrol 402 Sqdn sighted 5 ME 109's flying NW from NIJMEGEN at 10.000 ft. A Section of the Spitfires dived to attack but the enemy aircraft evaded in cloud. At 09.30 hours 274 Sqdn saw one ME 262 at 22.000 ft. 6 miles East of Arnhem flying S.W. but they were unable to make contact. On their next Patrol, these Tempests were more successful; they were flying at 14.000 ft when the Leader sighted 5 ME 262's carrying Bombs at 16.000 ft flying westwards towards the bridge at Nijmegen. When our A/C turned to engage them, the e/a jettisoned their bombs in open country and made away eastwards. One of the Jet Planes when fired on turned on its back and dived down at an angle of 60 degrees. and may have crashed after this manoeuvre although no claim is made. It was appreciated when 80 Sqdn. who relieved 274 on Patrol reported on the success of this interception. 80 Sqdn saw a ME 262 at 16.30 hrs climbing from 20.000 ft just N.W. of Nijmegen and were unable to make contact but two of their pilots (F/Lt. Friend and F/O Garland) twenty minutes later fired at 3 ME 109's which they contacted 3 miles N.E. of Nijmegen. The e/a were flying in and out of cloud and no results of the engagement were seen.Another ME 262 was spotted at 17.30 hours over Nijmegen when 402 Sqdn were airborne. It was at 25.000 ft and the Spitfires found it impossible to close on it.

.

5/10/44
23.59
ARMED RECCES AGAIN. After many days of patrolling the Squadrons were yesterday engaged on the more zestful task of doing Armed Recces over Germany where at present any movement at all is fair game for our guns. Nor was the day without success. A total of 7 Locomotives were put out of action, a light tank was left flaming and about 20 road vehicles were either destroyed or damaged.80 Squadron started the day's work with a tank flamer, and two MET smokers and one damaged. They also gleefully attacked a Hun working party and claimed not a few flamers.But 274's next armed Recce, which followed, was even more successful. An ammunition train was completely gutted. Two other locos were blown up and one damaged. One MET was left flaming and two half tracked vehicles damaged. F/O Kinmell had engine trouble and Force landed in No Man's Land. The Pilot was seen to get out of the aircraft and make for cover.130 Squadron found a fair amount of scattered MET on the next mission and wrote off 3 staff cars and 3 half track vehicles.
The hate against Locos was carried a step further when 80 Sqdn beat up two more trains an hour or so later. Then 274 severely damaged two more trains – just before tea and 130 finished off the day a fairly uneventful Armed Recce after tea although on landing W/Cdr Page was injured.The highlight of the day was undoubtedly the destruction by 402 Squadron of 3 ME 109's and 1 FW 190 without loss to the Squadron. Ten aircraft of 402 were scrambled after Huns in the Nijmegen area just before three o'clock. Three of the Squadron had to turn back for various reasons and there were only 7 of them over Nijmegen when 15 plus ME 109's were sighted at 22.000 ft. The seven climbed up to the attack. F/Lt. Speare says: "I picked out two that were diving down and went after them. I lost one but followed the other right down to the deck. I got line astern of him at a range of about 100 yards, and when he started to climb I gave him two second burst. He started smoking, half rolled to port and dove straight into the deck and exploded".
Meanwhile F/Lt. Lawrence who was leading the Squadron had spotted a lone ME 109. He quickly got into the line astern and closed his range. He fired a short burst and the Hun went into a diving turn to starboard. F/Lt. Lawrence turned inside him and gave him another two second burst. Black and white smoke poured out of him and he went straight in. AND ONE WROTE ITSELF OFF.F/Lt. Lawrence continues: "After this engagement five of us reformed and soon after spotted another lone ME 109 flying East at about 18.000 ft. We went after him and he went into a dive which steepened to the vertical. When near the ground he attempted to level off. On pulling out, his aircraft disintegrated and fell to the ground in pieces". This e/a is claimed for the Squadron as a whole.F/O Whittaker claimed the fourth – this time another ME 109. Nice shooting 402 – and there's plenty more where they came from !Trains again suffered heavily yesterday. 5 Locomotives were destroyed outright, 3 were probably destroyed and six others damaged. 23 wagons were damaged.Of the little road traffic seen, four vehicles were destroyed, five left smoking and five damaged. And by way of variety a barge was set on fire, four were damaged as was the tug pulling them. In fact the only transport not attacked were bicycles and perambulators! Altogether a fine day's work.

.

6/10/44
23.59
"TEMPS LEAVE". After only a few days stay with 125 Wing the two Tempest Squadrons, 80 and 274 left us to join the other Tempest Squadron at 122 Wing. We instead are to have three Spit XIV Squadrons.With only two Squadrons here to do the work, quick turn rounds were essential after each show, and the crews are to be congratulated on getting the refuelling and rearming done each time with most commendable rapidity. There was always a Squadron ready to take the air from first to last light."LOCO BUSTERS". Trains came in for a caning yesterday. 130 started the Blitz by blowing up and completely destroying a long goods train carrying petrol, ammo and guns to the front. After 130's attack the rain was enveloped in smoke and flames while the engine blew its top off. The flak that came from the train to start with was soon silenced. On the same mission 130 attacked and damaged the Engine and six wagons of another train, and finished the trip by damaging 12 of thirty barges they saw moored on a canal. When 402 went out a little later they clobbered a further three engines – one blew up and the others were damaged – and nine wagons. Haze made visibility very poor, but a train takes some hiding. By the time 130 went out again, the weather had deteriorated quite a lot and there was very little movement seen (possibly the hun was keeping his head down while 3.000 bombers dropped dirt and corruption on him). At any rate, all 130 could get was one half tracked vehicle in flames, one lorry left smoking and another damaged. The heads were still down when 402 went out half an hour later. The sky was full of bombers – but there was no movement seen on the roads."HIGHER AND HIGHER". The day's flying finished with both Squadrons doing two patrols each at the uncomfortable height of 30.000 ft. Huns – even "Squirt planes" – were conspicuously absent."END OF A TOUR". Wing Commander Page D.F.C., and Bar has returned to England on completion of his Ops tour. The Wing will miss him. Wing Commander J. Wray D.F.C. becomes the new Wing Commander Ops in W/Cdr Page's place.

.

7/10/44
23.59
Only four sorties were flown yesterday, ground mist and fog making it impossible for the aircraft to get on the ground. Even the four aircraft that did get off just after lunch when the weather showed signs of improving had to be recalled owing to worsening conditions at base."DOING THE CONTINENTAL". Any time now ground personnel are going to be granted 7 days leave – but it can only be spent on the Continent – and no transport facilities will be available… We can recommend Grave Lido —- unless you want to thumb your way to Antwerp."V – SIX". We had V-One. The newspapers and the German Radio have talked about V-two, V-three, V-four and V-five. Now comes V-six. This is a Cigar shaped object, about four inches long, brown in colour. When set alight it emits a lethal malodorous smoke guaranteed to kill at close quarters. The original plan was to drop them by parachute over 125 Wing each time the cigarette ration ran out, but so rapid has been 125's advance to (the) Grave that they are issued instead with the weekly cigarette and chocolate ration. You have been warned.

.

8/10/44
23.59
Sixteen sorties were flown on High Patrol at 20.000 ft between 06.30 and 08.30 hours yesterday in spite of a ten tenths layer at 5000 ft. But then the weather closed in at the Strip and the cloud base lowered. No further sorties were flown.

.

9/10/44
23.59
No air activity
10/10/44
23.59
No air activity
11/10/44
23.59
Although 14 missions were flown in all involving some 65 sorties, only two had anything of interest to report. One of these – a patrol of 4 aircraft flown by 130 Squadron – witnessed the attack on the airfield by two ME 262's. After some very accurate vectoring by the ground Controller our Spits, at 22.000 ft. saw the 262's just finishing the N-S dive at about 10.000 ft over the airfield. The bombs fell wide to the east of the strip. One of the e/a then turned to port and 130's section cut across to intercept him as he was climbing away eastwards. They were approaching at an angle of 90 degrees but the e/a spotted them above him and turned in towards and underneath them. The Spit did practically a 180 degrees turn to get on his tail and managed to get in a short burst at about 600 yards Range. By now they had lost their height advantage and the ME 262 flying straight and level had about 30 mph advantage in speed and began to pull away. They fired a couple of more bursts at gradually increasing range but the e/a pulled out of range and out of sight.An even briefer encounter was experienced by the next patrol who sighted a 262 at 7.000 ft flying east 10-15 miles East of Grave. The 130 Aircraft at 8.000 ft got on his tail but the 262 spotted them and dived smartly into cloud. The section followed – closed to 500 yards and had a short burst, but finally lost contact in cloud.It was the general consensus of opinion of the pilots that given a bit more luck and some height advantage the 262 will not always be able to rely on its speed to avert combat.Other patrols were uneventful, but it will obviously impede the freedom of action of the ME 262's when they realise there is always a Spit XIV Patrol on the look out for them.There were three encounters yesterday between our patrols and ME 262's. In each case our Aircraft got near enough to have a squirt at the Hun's Jet Jobs though no apparent damage resulted.In the first encounter a section of four Aircraft of 402 Squadron were very accurately vectored by the Controller on to the tails of the e/a and seemed all set for a perfect bounce. The 262's however saw them in time and by taking evasive action in the nature of quick – though rather wide turn, offset the advantage our aircraft had over them in the dive. As the Spits dived down at something like 400 plus m.p.h. the 262's turned away and by the time our aircraft were on their tails again they were able to pull away in a shallow dive.The next duel occurred in the vicinity of the airfield. Six of 130 Squadron aircraft at 15.000 feet sighted a 262 at 20.000 ft. They climbed to intercept and attack but the e/a had seen them and pulled very smartly up into cloud. About twenty minutes later the same section of 130 Squadron flying at 10.000 ft saw a 262 carrying three bombs 2.000 ft above them over NIJMEGEN and flying toward them. If their intention had been to bomb the bridge they were thwarted for they jettisoned their bombs on sighting the Spits and shot into cloud.The last encounter of the day came nearer to success than any other. F/Lt. Sleep of 402 Squadron saw two bomb carrying 262's drop out of cloud at 15.000 ft. when he was at 14.000 ft. They were flying towards him about one mile away on his port side and when he turned tightly to get on their tails he got within 800 yards and fired a quick burst. Again they dropped their bombs well away from the airfield and went into a shallow dive. F/Lt Sleep went after them all out and closed to 600 yards when he gave another burst. No strikes were seen but white trails appeared from the jet propulsion units as if the e/a had switched on their jets. Unfortunately F/Lt. Sleep had to break off the action since the guns at NIJMEGEN opened up on him and the e/a.Just after 15.30 hours yesterday there was the familiar whistle as an ME 262 swooped down over the airfield and dropped a couple of bombs on the 127 side of the strip. As a result four were killed, seven injured and a Spit IX was burned out. Six other Spits received minor damage.

.

12/10/44
23.59
Of the evening missions carried out yesterday by our aircraft, four were completely uneventful, serving only the purpose of reminding the Hun that we were always on the watch. The other three excursions however bore fruit in that a locomotive was destroyed, eight barges were damaged and a total of three MET flamers, five smokers and one damaged were reported. A Truck load of Huns were raked with machine gun bullets on one of these trips.The airfields used by the 262's were scrutinised very closely yesterday, too, but no activity was visible.
YESTERDAY'S 262 Just after 14.00 yesterday the whole airfield – and distinguished visitors took 262 action when a 'squirt' plane whistled down out of cloud and dropped a couple of bombs harmlessly on the open fields to the east of the strip. Apparently they don't like this countryside any more than we do.Billets. The hunt for comfort goes on. Five N.C.O's have made a couple of cows move up and have occupied their stalls. Sixteen 'erks' in one farm have got themselves set up in a comfortable hay loft, the only disadvantage being that they have to pass through Mabel's room to get there. Mabel doesn't mind.

.

13/10/44
23.59
77 Defensive sorties were flown yesterday. Only once was an enemy aircraft sighted and since it – a 262 – was going rapidly east at 25.000 ft and our aircraft doing 400 m.p.h. westwards at 20.000 ft they were content to let it pass.That Continental Leave. Those for whom Gay Grave, riotous Reek and Voluptuous Velp have no attraction will be pleased to hear that the C.O. has fixed up accommodation in Antwerp for those who want to go there for their seven days leave. One or two minor obstacles have yet to be overcome but it is fully expected that the scheme will work 'a la Butlin's Holiday Camp – and S.O.P's will not be required.Has 125 GOT B.O.? Whereas in the old days 125 always had gaggles of visitors, nowadays the front line airfield is left severely alone. Visitors who do arrive always leave precipitously pleading engagements at Rear or Remote Control Centre. It must be our B.O. – Bomb Orrors.

.

14/10/44
23.59
A standing patrol of six aircraft was maintained between NIGMEGAN and ARNHEM yesterday until just after lunch when the Wing was released.All the morning patrols were uneventful save for occasional sightings of unidentified aircraft at very long ranges. No contacts were made.At 14.40 hrs when 402's Aircraft returned from Patrol the Wing was released, but as if in sympathy with non-released wings, a super clampers descended and our neighbours across the strip were also relieved of the obligation of ding with the Almighty. Fall of a Star. Planet – the ground controller who has been so warmly praised by our pilots of late for his uncanny accuracy in vectoring them on to the tails of 262's – was yesterday feeling off colour or perhaps was just in a playful mood. At all events when 402 at 20.000 ft heard that the wing had been released they were impatient to get back to base as quickly as possible so they asked for a homing. The first vector which Planet gave them sent them whistling away to the Zuyder Zee. His second attempt nearly pancaked them in the Ruhr (does Duisberg under the RAF look so very different from Grave under the 262's).Finally, forsaking all others, our aircraft was brought safely home by our local control.

.

15/10/44
23.59
The Wing was in any case released until noon and as the rest of the day was either clampers or near Clampers little flying was done. A 130 Weather recce at 12.45 reported reasonable conditions but after two uneventful defensive patrols the weather closed in completely and no further sorties were flown.ANYTHING like the sound of a rat makes my heart go pit a pat — and anything like the sound of a bomb sends us prostrate to the earth. So when some unthinking R.E's started exploding mines this morning we were not amused. Even a farm cart rumbling along a road sounds suspiciously like A.P's bursting and sends us all clawing for our tin hats. But at least it keeps our reaction up to scratch. From a standing start we can usually beat our visitors to the bottom of a slit trench by seconds. Some only get there at the second attempt.An historic Tannoy Announcement at 18.00 hours last sent morale soaring. Instead of Tannoy testing….. Tannoy testing…. a voice trembling with emotion – or anticipation – announced that an issue of RUM (repeat RUM) would be made to all airmen. We understand that this is to be a regular occurrence. So we are rewarded for our discomfort. Oh Grave where is thy victory.

.

16/10/44
23.59
The Wing flew 63 sorties on defensive patrols "without incident".VISITS. The Inspector General visited the Wing to-day. It was however impossible to arrange the usual 262 entertainment, normally accorded to important visitors, in the short time available.

.

17/10/44
23.59
A night of continuous and heavy rain on an already water logged strip made flying impossible from this airstrip yesterday and no sorties were flown. Pilots and aircraft were kept at readiness against possible improvement in conditions, but further rain in the afternoon put an end to such hopes and at 15.30 hours both Squadrons were released.

.

18/10/44
23.59
For the second day running the strip was unserviceable and no sorties were flown. The Pilots however, not to be done out of the NIJMEGAN Patrol, set course for that big smoke at 11.00 hours, their agreed intentions being (a) to have a bath (b) to see what a street of houses looks like.PREPARATIONS FOR WINTER An Airfield Construction Unit has arrived on the Airfield and as soon as it can get its vehicles out of the mud will proceed to lay tracking down on the strip so that unserviceability due to rain will be less likely to occur in the future.The first few of a consignment of pre-fabricated huts have arrived, have been sited, and are in the process of erection. To this end the C.T.O. might have been seen yesterday morning trying to explain in English to Dutch Contractors, who spoke no English, what had to be done. Never was the Praill stick put to more use.

.

19/10/44
23.59
Although the strip was much dryer yesterday it was still too soft for anything but emergency landings, and no sorties were flown.

20/10/44
23.59
Once again the state of the strip made if impossible for the Squadrons to get airborne and thus another day has passed with nothing to report.A spell of sunshine to-day and an absence of the too frequent howling gale, did much to raise our minds above mud level. But not for long were we able to appreciate such kindly conditions, as Jerry, with his customary unpleasantness, started a series of visits soon after lunch. His first "Load" landed on the airfield and did damage to property belonging to our Wing partners. His succeeding visitations caused us to 'scurry in a hurry' but nothing more. Unfortunately certain of our land lines suffered damage from Jerry's efforts with that result that it is impossible to say at the moment, where he actually cast his shadow and with what, if any, success.

.

21/10/44
23.59
The strip had recovered sufficiently by yesterday afternoon for 127 Wing's aircraft to take off but owing to its delicate state of health could not be used otherwise. So once again so far as air activity is concerned there is nothing to report.CASABLANCA Like the boy who stood on the burning deck when all but he had fled, so 125 Wing remains at GRAVE – alone in its glory. Our former neighbours 127 Wing had the option of being re-equipped with Sunderlands or returning to BRUSSELS. Inexplicably they chose to return to BRUSSELS.Land communications have at last been re-established with the M.T. Section, whose hourly mud soundings have been invaluable during the recent Monsoon period. It was with some relief that they were able to announce yesterday morning that the mud level had fallen six inches. It is even hoped that at this rate of fall they may find a certain JEEP which is missing, presumed drowned.

.

22/10/44
23.59
While the strip continues to dry up quite nicely the C.O. decided it was not quite good enough yet for normal operations and should be used for emergency only.Flying Control were nevertheless galvanised into activity and shaken rudely from their torpor when a couple of Austers taxied out on their way to Brussels. And as the Dove ventured forth from the Ark to explore the watery vastness of Noah's countryside, so these two Austers took off into the blue, breaking the six days inactivity of the Wing.

.

23/10/44
23.59
By mid-morning the strip was dry enough to be declared operational for all purposes. So after lunch 402 became airborne for the first time for a week. Their task was an armed Recce in the WESEL – BORKEN area of GERMANY. Not much was seen chiefly because of poor visibility but two MET were left flaming and three others damaged. They also spotted a passenger train steaming westwards from BORKEN. They attacked and scored several strikes on all the Coaches and saw the Locomotive go up in a cloud of steam. Finally, having still some ammunition left, they went down on a factory east of GOCH and saw their bullets smash through the roof, and although no other results were observed.
At 15.00 hours 130 Sqdn also sent 12 A/C out on an Armed recce – this time in the ZUTPHEN area. By now visibility had deteriorated greatly and it was difficult to see anything at all on the ground. They attacked and left smoking a troop carrying lorry. One of the troops definitely fired his revolver at the Aircraft as they swooped low over the vehicle – and scored a hit on the cockpit of one of the A/C. No damage was done.Another Armed Recce was laid on for 402 Squadron, but with ten tenths at 2000 ft and thick haze below that, it was thought not to be worthwhile to send the Squadron out. No further sorties were flown.Claims :- MET 2 – 1 – 1- LOCOS 1 Cat "B"- Wagons 8 Passenger Waggons damaged.

.

24/10/44
23.59
Heavy ground mist prevented any aircraft taking off until after lunch yesterday. Then a weather Recce sent out by 130 Squadron reported the weather as being reasonably good though by no means perfect. As a result a Patrol of six aircraft were sent off to cover NIJMEGAN. Two of the formation patrolled below cloud and four above, but there was little excitement. The first patrol had a fair amount of gravy left when they were relieved so they went to have a look at the roads east of Arnhem to see if there were any Huns active there. The only activity they found were several hundred workmen digging an anti-tank trench S.E. of Arnhem. These were not attacked since it was though probable that they were Dutch civilians doing forced labour for the Hun.Three other patrols were flown all uneventfully. Unfortunately as the last patrol landed one Spit stuck in a patch of soft ground as it turned off the strip and the aircraft following it could not pull up in time. It crashed into the bogged aircraft which went up in flames. The other aircraft was also written off but luckily both pilots escaped injury.

.

25/10/44
23.59
Once more – nil. This time it was the weather which maintained a high state of clampers from first till last light.
26/10/44
23.59
The weather once more made flying conditions impossible
27/10/44
23.59
Overnight rains softened the strip again and it was fit only for operational necessity. Calm reigned therefore until late afternoon when warning was received that the dread Luftwaffe might be going to indulge in some flying practice. Accordingly – more in hope than in anger a Squadron was brought to readiness.At 14.25 hours they were scrambled. 130 Squadron leapt into the air as never before fully expecting to meet a gaggle of Huns almost in the circuit. Their expectancy was short lived. When airborne they contacted the controller who as much as said "What the dickens are you airborne for?" and they were vectored hither and thither somewhat half heartedly until disillusioned and dejected they were told to pancake. We suppose there is an explanation for it all. We should be glad to hear it.SEQUENCE OF EVENTSOctr. 27th – Dutch Interpreter and Liaison arrived at 125 WingOctr. 29th – 125 Wing moves to Belgium.

.

28/10/44
23.59
MOVE NUMBER EIGHT. Our eighth move in four months has been completed and the Wing is now operational at B.64 – Diest. On the 29th October a Recce party came down to DIEST to spy out the land. First impressions were favourable (after GRAVE almost anything would have been an improvement) and within 24 hours the "A" party were on the move. The 31st was spent in setting up sections, moving into billets and improving the strip.

.

Met dank aan/many thanks to John (aka Jack) Hillman
voor het beschikbaar stellen van de 125 Wing Operations Record Book.
.
OPERATIONS RECORD BOOK 443th SQUADRON R.C.A.F.
1/10/44
23.59

Weather cloudy and unsettled, periodic rain showers throughout the day. Ground personnel moving to B.82 airfield (Grave) Holland today without any incident on the road. All equipment and tents now set up ready for normal operations again. Two new pilots reported to the squadron at noon being C.10399 F/L T.P. Watt and R.88145 W/O R.L. Gaudet. Four patrols flown by squadron without incident today. F/O P.E. Piche returned from England and 7 day leave. F/O W.J. Sherman and P/O P.C. Bookman departed for 83 G.S.U. Thorny Island to pickup two replacement Spitfire aircraft.

..

2/10/44
23.59

Weather clear and warm, visibility very good. Squadron took part in front line patrols again today without incident. This airfield was subjected to an attack by enemy anti-personnel bombs at approximately 1100 hrs. It is likely that only one large container of these bombs was dropped; there were two casualties among our pilots, W/O Gaudet received a slight cut on one arm which was treated immediately and this pilot cleared as fit; F/L H. C. Charlesworth was injured in the left arm and has been transferred to Casualty Clearing Station at Eindhoven for X-Ray to determine the extent of his injuries which at present are considered only slight. There were two other attacks later in the day but not in our immediate vicinity. P/O P.C. Bookman returned this evening with a replacement Spitfire for the Squadron. Personnel busily engaged in "digging-in" around their living quarters as only protection against enemy attack by missiles from the air.

..

3/10/44
23.59

Weather cloudy and cool, 10/10 cloud at 4,000 feet. Squadron took part in usual front line patrols without incident and was on immediate readiness without being sent off in the afternoon. F/O A.M. Thomas returned from leave in England today. Information received that F/L H.C Charlesworth will return to the squadron from Eindhoven within four days, his injuries being only light and not requiring further treatment and hospitalisation.

..

4/10/44
23.59

Weather clear and warmer, visibility good, becoming cloudy in late afternoon. Squadron took part in regular patrols over front lines during the day without incident. F/O W.J. Sherman returned today from 83 G.S.U. with a replacement aircraft. Pilots moved into billets provided in the nearby town of Grave this afternoon. Present home is in a large building built as an old folks home during peace time. At present there is no heat, no electricity and no water but it is expected that some of these services will be provided in the near future. The necessary M.T. [motor transport] runs have been authorized and set up to maintain steady communication at all times.

.

5/10/44
23.59

Weather cloudy and cool, 9/10's cloud at 5,000'; clearing somewhat during afternoon, but still very hazy. Squadron tool part in three patrols over Nijmegen area without incident. Amendment to establishment received to allow 13 N.C.O. pilots and 14 officers for a total of 27 pilots.

..

6/10/44
23.59
Weather clear and cold. Squadron took part in three patrols over Nijmegen area without incident. A packet of anti-personnel bombs was dropped by enemy aircraft at our aircraft dispersal. None of the kites were damaged but one airman was fatally injured and another received slight wounds. A number of the tents received tears from flying particles. Due to inconvenience of periodic M.T. bottlenecks in contact between the airfield and pilots billets in Grave, … to the night, a temporary squadron den has been arranged from pilot's tents and furnished comfortably for unavoidable periods.

..